Family Video Series: What's in the Bible?
In Buck Denver Asks … What's in the Bible? you meet Buck Denver and his friends and join them on a journey through the WHOLE Bible. It's perfect viewing for the entire family – you will laugh and learn together!
In his first new project since VeggieTales®, Phil Vischer has set out to teach kids (and parents!) the story of the Bible – God's great rescue plan! We know the stories of Moses, Noah, David, and Jesus, but in this ground-breaking new family video series, we see how they all fit together to tell one big, redemptive story.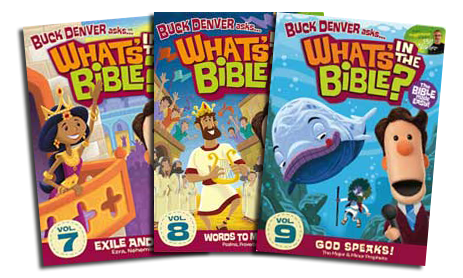 Vischer's signature wit shines through with his all-new cast of characters, fast-paced flash animation, and catchy tunes. This is one journey through the Bible you won't want to miss!
Volumes 1-9 of the video series cover the Old Testament, and learn all about the New Testament in Volumes 10-13. Don't miss Why Do We Call It Christmas?